FHF "Angel" Sponsors
Families Helping Families would like to extend our sincere appreciation to the many local businesses, families, and friends in our community who so generously donate their time, services, and financial support throughout the year to enable FHF to organize our Family Fun Events for the special needs community on Staten Island.
We would also like to give a special "thank you" to our very dedicated and loyal high school and college volunteers who make all of these events such a success!!
At Families Helping Families, we truly do Believe In Angels – thank you for your overwhelming support!
___________________________________________________________________
Families Helping Families Annual New Year's Eve, Eve Party – December 28, 2013
Mickey's Amusements (Mickey's Rides & More, Inc.)
Tommy's Costume Characters
The Main Event (NJ) Photos

Sound Explosion DJs
Jumpin' J's (Jim Falcone) Magic Show
Pastosa
Hillside Market
___________________________________________________________________
Staten Island Doll Club, 2013
___________________________________________________________________
FHF School's Out for Summer Party – June 27, 2013
Mickey's Amusements (Mickey's Rides & More, Inc.)
Tommy's Costume Characters
The Home Depot
Sound Explosion DJ
Domino's Pizza
___________________________________________________________________
Families Helping Families Annual New Year's Eve, Eve Party – December 29, 2012
Sound Explosion DJs
The Main Event
Tommy's Costume Characters
Mickey's Rides & More, Inc.
Italian Club of Staten Island Foundation, Inc.
IS 61 Chamber Ensemble
Jimmy Max Restaurant
Hillside Market
Pastosa Ravioli
____________________________________________________________
The Columbiettes, SI Knights of Columbus Council #5917 – September 2012
School back pack donation for needy children
Financial donations to support FHF
__________________________________________________________________
Spaghetti Fundraiser, SI Knights of Columbus Council #1662 – July 13, 2012
Catholic Daughters of the Americas, Court #912 St. Clare
Staten Island Knights of Columbus, Council # 1662
__________________________________________________________
FHF School's Out For Summer Party 2012, LaBetti Post Hall – June 28, 2012
Sound Explosion DJs
Macaulay Honors College of CUNY/CSI
Home Depot
Bopping Heads Entertainment
DRL Books
SI Children's Museum
Kristen Arpaia, Photographer
ShopRite
White Castle
Family Fruit
Novelli's
McDonald's
Domino's Pizza
__________________________________________________________
Families Helping Families – Family Fun Event at Fun Station USA – April 10, 2012
Fun Station USA and Joseph Scarola

Bagel Depot
___________________________________________________________ 
Families Helping Families 2nd Annual New Year's Eve, Eve Party – December 28, 2011
Sound Explosion DJs

*

The Main Event

*

Miss New York Pre-Teen 2011  Gabriella Caggiano

Dee Lights

Tommy's Costume Characters

Jimmy Max Restaurant

*

Hillside Market

*

Pastosa Ravioli

*

Wildflowers

Pasticceria Bruno

Artistic Image

Natural Color Hair Salon

Good Nails Anna

United Artists Hylan Plaza
* Angel Status – generous donors to all FHF parties
________________________________________________________
Families Helping Families  1st Annual Angel Awards Dinner – December 8, 2011
Monello Enterprises Inc.
Sound Explosion DJs
Holtermann's Bakery
Wildflowers
__________________________________________________________________
Families Helping Families  – Family Fun Events Sponsors
DRL Books, Inc.
Ann McGeary, Zumba instructor
Linda Ryan, Zumba instructor
Gerry Mosley, Shoot for Success (basketball)
Staten Island United Soccer Club
Hanshi Scarda, Shotokan Karate
Free & Accepted Masons of New York – Great Kills Lodge 912
_________________________________________________________________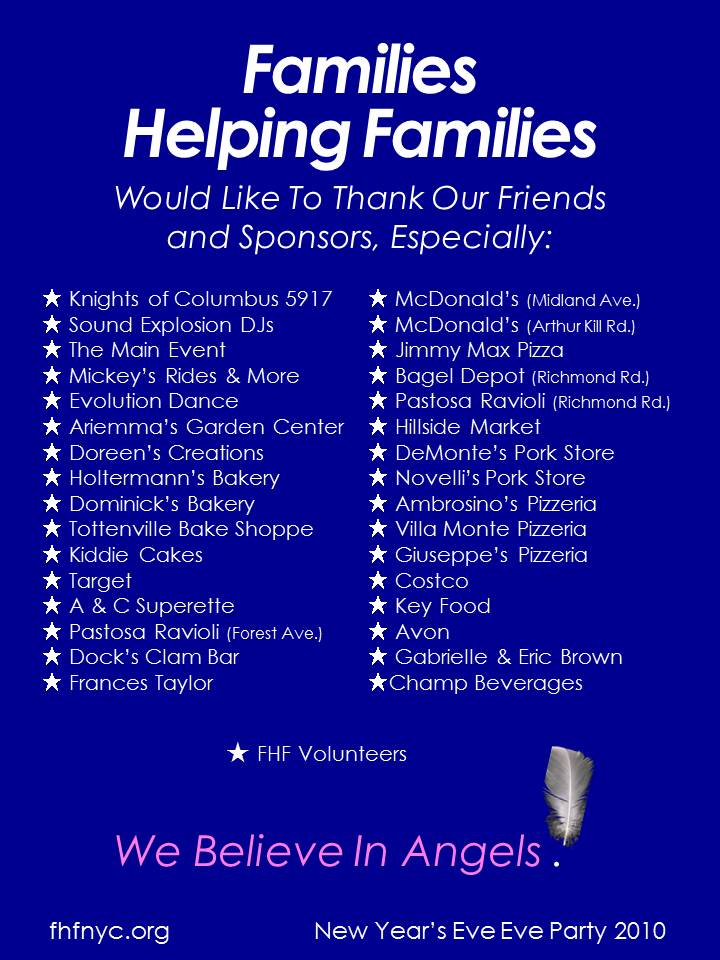 __________________________________________________________
___________________________________________________________________


Families Helping Families Annual New Year's Eve, Eve Party – December 28, 2013